1. What inspired you to write the short story that was featured in Birds of Passage?
To be honest, I'd never written a short story, but when the opportunity came up for Birds of Passage an idea immediately came to mind. I was working on my second book (The Wedding Gift – Christina's Purpose series) at the time with a looming backstory involving one couple where the husband had an affair. I'd planned to elaborate on that back story later, but it seemed perfect for the anthology. So,' My Big Faith Marriage' was written in between my other projects.
2. How long have you been a writer and how did your interest in writing start?
I started in fourth grade. I got some weird strain of flu and was out of school for a week. Mom was a nurse in a local doctor's office and she knew I was bored, so she brought home a huge stack of old green and white striped computer printer paper they were going to throw out in the front office. She thought I'd draw on it, but I realized it would fit in her typewriter, so I started a story about a deer family in the woods. It kept going and kept going and before long, I had written my first novella. (Never published by the way!) After that, I loved writing.
3. What would you like to accomplish as a writer?
First and foremost, I want to give people hope that God is working, no matter the situation they're facing or what they've done in the past. Redemption is the theme. If I manage to entertain at the same time, that's even better.
4. Who has influenced your writing? How?
I guess the biggest, as far as storytelling, would be Stephen King's book, 'On Writing'. In learning to be a better writer in general, I was pointed to his book time and time again. Also, Jeff Gerke, where I learned it is possible to tell a graphic story without compromising my own convictions. Another is K.M. Weiland. Her tips on story structure has helped me tremendously. And, many other authors I've read over the years, taking note of the different ways they write.
5. Do you write on a regular basis or sporadically and when and where is your favorite time and place to write?
I tend to write on a regular basis, but two years ago, I cut back to take time off for personal reasons. However, in recent months, I've gotten back to writing regularly and intend to keep at it. I write best in the mornings and I can write just about anywhere, as long as it's quiet.
6. What book and/or short stories have you written, besides the short story in Birds of Passage?
I have one self-published novel, 'The Party Gift.' It is the first in a series (Christina's Purpose), and I have already written the second book, 'The Wedding Gift', which is in editing.
7. Do you read Christian and secular novels or just Christian works? Do you have a favorite author, can be Christian or non-Christian?
I mostly read Christian works, but I've read a few tame secular books in the past. I like several authors. I guess the ones I've read the most are Bonnie Blythe and Denise Hunter. SQ Eads novel, 'Arizona Aussie', to me, was quite entertaining.
8. As a Christian author, do you plan a faith message before you start writing or does your faith message grow out of writing a particular story? If no faith message in your writing, why not?
A little bit of both if that makes sense. I have a faith message in mind when I start a story, but as it evolves, sometimes things tie together that I'd never considered before. Then, more opportunity comes to strengthen that message. All my stories have a faith message. It's the reason I write.
9. Do you outline every chapter of your story, or do you simply let it flow without a preconceived idea as to where you might be headed?
I have never outlined a story. I probably should, but I've always just started with an idea and went wherever it took me.
10. What is the biggest challenge facing you as an author in general? How about as a Christian author?
The biggest challenge for me is to improve my writing. As a self-published author, marketing is right up there, but it starts with a great story. I know mine could always be better. As a Christian author, my biggest challenge is writing about messy life issues without stepping over the boundaries of my own convictions. Writing edgy Christian fiction can be dicy, and if church-goers are reading it, they can take the message all different ways. Good and bad. In the end, I want to glorify Jesus Christ. If I can write a story with a strong message that doesn't set off alarm bells with Him, (and he does keep me in line) then I can't worry too much what others think might be crossing the line. The Bible is full of people who get into precarious situations, fight, or God asks them to do something that seems completely off the wall. On the other hand, some that have read my book feel the events were too coincidental. In that case, I made my point. Nothing is coincidence with God.
11. Tell me about your current project. What you are trying to achieve, how far along are you, when it will be ready, any particular challenges with the work, target audience, etc?
Right now, I'm working on book three in the 'Christina's Purpose' series and should be done sometime next year (2017). Also, the second book, 'The Wedding Gift' is in editing now and I hope to have it available by the end of summer 2016. They continue the story in my first book, 'The Party Gift'. With this series, I'm trying to show the importance seeing ourselves as God sees us, despite what we've done or think we deserve. To be able to forgive others and ourselves once we've been forgiven by Him. I also shed light on some problems that tend to stay out of sight or get swept under the rug, so to speak, in traditional Christian stories. My target audience will probably be mixed. It is aimed mostly at Christians looking for a story with some of the darker struggles in life, and how God works the characters through them. However, some non-Christians will read them inevitably. I know some have already read the first book and I think that is even better.
12. Given the choice, would you rather be an independent author or be traditionally published? Why?
I would probably remain independent for the simple reason of staying in control of my stories. Self-publishing is hard, but no one is telling me what I can and can't write to satisfy a particular genre or publishing guidelines. That said, I'd be floored if I ever received an offer from a traditional publisher.
13. Is there anything else about you or your writing that you would like to share?
I think I've about covered it.
14. If someone wants to reach out to you, how should they do that? What is your preference?
Email me at helena@helenakamerra.com.
Excerpt: My Big Faith Marriage – Helena Kamerra
Chapter 1
"Where's that blasted IRS bill?"
Thirty-six-year-old Dr. Michael Leycester scrambled through a pile of papers on the desk in the bedroom.
"Calm down, dear," Janet Leycester replied from the adjacent bathroom. "If you're paying bills, don't forget we owe tithes this Sunday."
He snorted and flung his hands in the air.
"Did you check the kitchen drawer?" she asked.
He cut his gaze toward the bathroom, his jaw tensed. "It's not in the kitchen. I put it in here."
Janet walked out of the bathroom, her hands to her ear as she placed an earring. She wore a pink blouse that complemented her gray dress pants and her petite figure. Her brunette hair was in a bun.
"I'm supposed to counsel a couple at four this afternoon, so I might be a little late." She put her hands to her hips and watched as he plundered through the desk. "You didn't come to bed again last night."
"I was out on that cow call till three." He let a small book fall out of his hand and plop down onto the desk with a thud. "It's not in here."
Children's voices filled the hallway outside the bedroom door. "Matthew. Give it to me!" A mischievous giggle followed the demand as a six-year-old girl with long, dark hair stomped into the bedroom. "Momma, he's got my lip gloss."
Michael walked into the hall with his three-year-old son and snatched the small cylinder of lip gloss from his hand. He held it out toward Tia. She grabbed it. He stepped out of sight toward the living room. "I'm gone."
"Wait, Jasper and Neely are coming tonight," Janet said over Matthew's screams. She hopped around on one foot trying to get her shoe on.
"Gotta go see a horse."
"But it's Friday. It's my day to open the clinic. Can't you get the kids to school? Michael?" She lost her balance and fell onto the king-sized bed. "Michael?"
***
"Hey, Doc, everyone's gone." The young strawberry-blond woman sashayed closer to Michael as he steadied a Sheltie on the treatment table. "Did you hear me?"
"Just help me get blood on this girl, will ya? We've got company coming to the house any minute."
Samantha frowned and slid her arms around the dog. He took a syringe and tore it from the packaging when a sharp aroma filled his nostrils. Whoa. Perfume. Funny, he hadn't smelled it all day, until now. He swallowed and let out a controlled breath. If she thinks I'm falling for this again…
"So who's coming?" she asked.
"Jasper and Neely."
She watched as he collected the sample. "Oh, they're back in town. So, he'll be working next week?"
"Yep, after class."
Michael laid the blood tubes on the counter, picked up the dog, and carried her through the door to the kennel room. He stooped down and placed her in a large cage with food and water.
He stood, his eyes trained on the closed treatment room door. A tingling sensation crept up his spine. What was going to happen when he walked back through that door? Not tonight, Sam. Not ever again.
He charged forward into the treatment room. No one was there. Thank goodness. The blood machine buzzed next to him. The timer showed nine minutes left.
Thankful she had initiated the blood work for him, he walked toward his office with a tired swagger. The woman's work ethic was never an issue. It was her persistence. Inappropriate persistence. But he had allowed it. He would take the blame, whatever came of it. Yet it was obvious. Samantha had to go. Somehow, someway.
He pushed his office door open. He stopped in the doorway, his jaw dropped. There was Samantha, stretched out across his desk. Her bare skin glistened from head to toe. He grabbed the door facing with one hand and glanced both ways…
---
To read more, order your copy of Birds of Passage.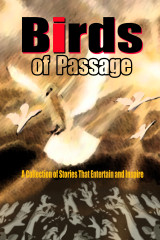 (Click here to order your copy of Birds of Passage. 100% of the proceeds go to Passage Home, a 501c3 non-profit, whose mission is to help release people from the grip of poverty)
---
Stay tuned for our next author interview with Bobbie Anne Cole.