1. What inspired you to write the short story that was featured in Birds of Passage? 
First of all, let me just say it was such a privilege to work on this project with Diogenes Ruiz, Edgy Christian Fiction, and Passage Home. I was truly honored when Diogenes asked me to contribute a piece of work to this anthology, and I immediately accepted the incredible opportunity. After I had hopped on board, I realized I needed to actually produce some material. Strangely enough, it wasn't long until the material found me. My husband and I were walking down the streets of downtown Tulsa when we met a former veteran who had lost everything. I mean, everything. His marriage. His money. His family. Everything. And, despite his state of destitution, he reached out. He shouted, actually, to stop us from slipping past him. Then he challenged us to always remember and treasure what we have in each other. When he turned and walked away, he vanished from our lives forever, but his message has never left me. After that, I couldn't help but put it on paper and submit it as my essay.
2. How long have you been a writer and how did your interest in writing start? 
I think deep down I've always wanted to be a writer. Even as a kid, I would spend my time whipping up ideas and storing them in a private folder that I would 'turn into a book someday'. If you had asked me what I wanted to be when I grew up, I would've told you I'd like to be an author. Of course, back then I would've said I wanted to be a WNBA player, an actress, and a detective, too. But, as the years went on, I quickly discovered it wasn't realistic for me to be all of those things.
So, like every kid, I grew up.
Then, in high school and college, the question changed. Instead of people asking what I wanted to be when I grew up, they'd ask, "If you won the lottery and never had to worry about money, what would you do every day?"
For me, the answer was instinctual. Write. I would write.
Then I realized it was realistic for me to be all the things I dreamed of as a child. If I were a writer, I could be anything I wanted. After all, Andy Weir became an astronaut in The Martian, J.K. Rowling became a wizard in her Harry Potter series, and C.S. Lewis even crept into the mind of a demon in The Screwtape Letters. Having a career like that—a job fueled by uninterrupted imagination and creativity—was exactly what I craved. It wasn't until I met and married my husband, however, that I had the courage to pursue my penniless dreams. Without him, I wouldn't be anywhere near where I am now.
3. What would you like to accomplish as a writer? 
I've been lucky to have my work included in a few anthologies, and also in a sport psychology textbook. However, I'd love to have my very own books published and mass-produced someday.
4. Who has influenced your writing? How?
Mark Lewandowski—one of my greatest creative writing professors—was the very first person to mold my writing skills. He took me at my most raw form and shaped me into something that actually resembled a writer. Now I have writing buddies who critique and strengthen my work. Two of them—Jan Johnson and Kellie Moore—have been particularly influential to my career. Lastly, Suzanne Collins' work on The Hunger Games trilogy inspired my love of dystopian novels. Because of my infatuation, I'm working on my own dystopian trilogy that I hope will do justice to the genre.
5. Do you write on a regular basis or sporadically and when and where is your favorite time and place to write? 
I've found that when I write sporadically, the quantity and quality of my words suffer. So, I groggily go to my home office every morning at 5 o'clock before the rest of my family is awake. I also spend Saturday mornings working at a local coffee shop.
6. What book and/or short stories have you written, besides the short story in Birds of Passage? 
I've been blessed to have an array of work published. I'm a published co-author of Winning Kids with Sport!, a textbook that delivers sport psychology techniques to youth coaches. And in 2013, my poetry won the George Herbert Award from Athanatos Christian Ministries. My poem, The Fall, was then published in their anthology Descant.
7. Do you read Christian and secular novels of just Christian works? Do you have a favorite author, can be Christian or non-Christian? 
I typically tend to read secular novels more than Christian works. I absolutely love the poetic brilliance of Markus Zusak. I also appreciate Lisa Genova's ability to take complex matters like Alzheimer's Disease, Autism, and Huntington's Disease and transform them into extremely powerful stories on a personal level. Jim Gaffigan is another favorite. He has a way of making me laugh, which can earn me some pretty strange looks if I'm reading his books in public. Not to mention, I have a slight—okay, an immense—obsession with Suzanne Collins' work in the Hunger Games trilogy. When it comes to Christian literature, though, C.S. Lewis is by far my favorite author. His work is downright brilliant.
8. As a Christian author, do you plan a faith message before you start writing or does your faith message grow out of writing a particular story? If no faith message in your writing, why not? 
Typically there is a faith message in my works, and it stems from something I've witnessed in the world. For example, Capacity (the first installment of my dystopian trilogy) focuses on judging people based on color. Being from St. Louis, I was inspired to write this novel after the riots occurred in Ferguson, Missouri. So there's a heavy dose of our real, broken world injected into my work. I guess that's what makes them 'edgy'.
9. Do you outline every chapter of your story, or do you simply let if flow without a preconceived idea as to where you might be headed? 
I'm somewhere in the middle. I create a loose outline for my novels, but I don't go so far as to outline every single chapter.
10. What is the biggest challenge facing you as an author in general? How about as a Christian author?
Right now, my biggest challenge as an author is time. My primary 'job' is to stay-at-home with my two beautiful daughters, and I absolutely love getting to be with them every day. The tricky part as a writer is finding a time when both girls are asleep so I can actually produce something coherent.
11. Tell me about your current project. What you are trying to achieve, how far along are you, when it will be ready, any particular challenges with the work, target audience, etc. 
Capacity is about what happens after the Third World War nearly eliminates humankind. When the few survivors band together, they try to form a higher standard of humanity. In doing so, they design a competition to measure people's strength and smarts. The final scores—or Capacity—determine people's color and rank in society. When Marian Bethlem is forced to compete, she must outscore her peers or risk losing her family, her future, and the love of her life.
As previously mentioned, this book tackles the issue of race and discrimination but does so in a post-apocalyptic world. Marian, the main character, is 18-years-old and many teenaged/young adult women readers can relate to her. Right now, I'm about 80 pages in, and I plan to be finished writing by the end of the summer.
12. Given the choice, would you rather be an independent author or be traditionally published? Why? 
Let's be real: If either of those routes pave the way for my work to be published and read, that's the path I'd like to take. With that said, I've always dreamed of being traditionally published. Maybe I'm old school, but there's something exciting about finding the right agent and publishing house. As a former athlete, I'm used to working with other people. So, to know I have an agent on my team just feels right. Like I'm finding a Mr. Miyagi to instruct me and whip me into shape, but also to champion me in my corner while we get through the fight.
13. Is there anything else about you or your writing that you would like to share? 
A lot of times I'll tell someone I write dystopian novels and they'll have no idea what that means. So, for anyone unfamiliar with that genre, 'dystopian' just means a 'failed utopia'. They are set in the future and usually there's some sort of oppressive societal control in the new world. Often times, dystopian novels critique current trends, societal norms, or political systems. Some examples would be The Giver, Lord of the Flies, Brave New World, The Hunger Games, Divergent, and The Maze Runner.
14. If someone wants to reach out to you, how should they do that? What is your preference? 
If you'd like to contact me, you can go to my website at www.kelseygillespy.com. Also, feel free to send me an email at kelsey.gillespy@yahoo.com. I would absolutely LOVE to hear from you!
Excerpt
Until He Was Gone – Kelsey Gillespy
The weight of his family rested in his palm as Mark Sanchez set the phone on the table. He ran a hand through his hair, which had recently become sprinkled with gray. Even the stubble on his face was spotted with white like the first hoarfrost of winter—like the coming of all things devoid of life.

His eyelids sagged with his heavy heart. The skin around his eyes ached beneath his fingertips as he rubbed, the pressure now painful.
"What'd they say?" His wife's eyes were large, pleading for an inkling of hope as she spooned the last bite of sweet potato into their toddler's mouth. If the baby put half as much food in her mouth as she did on her face, maybe she wouldn't be starving.
His wife's cheeks looked sunken. When did that happen? Was it because she gave all her food to the baby or because she never smiled anymore? Either way, she was wearing away.
And it was his fault.
"They said no thanks." Mark wiped his eyes again, this time collecting moisture on his fingertips.
"Dada!" Makenzie shouted, waving pudgy, goop-covered hands at her superhero.
He huffed into the air and pressed his palms to his eyes. Somehow the pain comforted him now. Made him feel justified for once. Like he was finally doing something right. Like he deserved the pain.
"Yeah, I'm your Dada. Your big, fat, failure of a Dada." …
---
To read more, order your copy of Birds of Passage.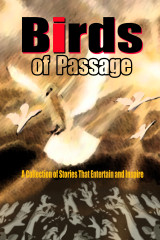 (Click here to order your copy of Birds of Passage. 100% of the proceeds go to Passage Home, a 501c3 non-profit, whose mission is to help release people from the grip of poverty)