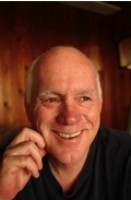 Ken's stories have appeared in Esquire and dozens of other magazines and anthologies, been honorably mentioned in Best American Short Stories, and earned a National Endowment for the Arts Fellowship. He has been a frequent contributor and a columnist for the San Diego Reader.
His novels are Midheaven, a finalist for the Ernest Hemingway Award for best first novel, The Loud Adios (Private Eye Writers of America Best First Mystery Novel, 1989), The Venus Deal, The Angel Gang, The Do-Re-Mi (a January Magazine best book of 2006 and a finalist for the Shamus Award for Best PI Novel), The Vagabond Virgins, The Biggest Liar in Los Angeles, and The Good Know Nothing.
He has also published (at Hickey's Books) a memoir, a road saga (with Alan Russell), and two indispensable guides for writers.
He lives on a hill overlooking Mexico and the Pacific Ocean with his daughter Zoe, their cat, and some chickens.
What initially led you to become a writer?
Well, when I was little, we lived with my grandma, and she was a master storyteller. Then I found I loved to read. During high school and college I tried writing a few short stories. One of them felt too big for a short story, so I decided it would be fun to attempt a novel. I wrote it, a professor sent it to a New York agent, who praised it and took it on. At that point I was hooked on writing.
I mean, I can't remember ever deciding to be a writer or deciding to be anything. I just like to do stuff.
Your debut novel, Midheaven, strikes me as the very definition of edgy Christian fiction.  Interestingly, you wrote it all the way back in 1980, at a time when the modern Christian fiction movement was just getting started. How did people react to Midheaven back then, and what was it like to be selected as a finalist for the Ernest Hemingway Award?
Readers mostly liked it a lot, and reviewers praised it, but I don't recall a single response from a Christian writer or fan. I never thought of Midheaven as a Christian story or a secular story. It was just a story I wanted to tell.
The Hemingway Award was especially inspiring because it made me believe I had stumbled into the right career.
You are probably best known for your Tom Hickey crime novels, of which there are seven.  What continually draws you to write about this character and his family?
My tragic flaw may be persistence. If I start to tell somebody something and get interrupted, I feel compelled to go back and finish. Almost always, once I open a book, I read to the end. So I try to be careful about what books I open. And once a story gets into my mind, I want to finish it. To me the whole Hickey series is one big story, though I take pains so that each of the books stands on its own.
The Hickey books were not written in chronological order. What has been the upside and downside of this approach? Do you recommend a particular order in which the series be read?
I'm not sure there is an upside, except that I got to write the parts of the story I wanted to write when I wanted to write them. They just came to me in that order. I'm not a linear thinker. Like with the novel I'm currently writing, I may write scenes out of order, because I have an idea and want to get it down while it's fresh and exciting to think about.
The downside is about marketing. Bringing them out in chronological order could have generated more sales. I'm trying to come up with ways to get new readers introduced to the series beginning with the chronologically first one, The Biggest Liar in Los Angeles. In fact yesterday I emailed my publisher about that issue and suggested an ebook pricing strategy.
Part of the appeal of the Hickey novels is that they are steeped in actual California history.  How much research generally goes into the writing of each of these novels?
For each, I'd say I read about a dozen books, and I'm always looking for details online or in films. I used to spend a lot of time in libraries, browsing magazine and newspaper archives.
Some of your other books—like Writing and the Spirit, Midheaven, and Reading Brother Lawrence—have very overt Christian themes, but the spiritual messages contained in the Hickey novels are far more subtle. Do you make a conscious decision to include some form of spirituality in all your novels, or are these themes simply a natural offshoot of your own personal worldview?  Do you write your novels with Christian audiences in mind, or secular ones?  (Or is it both/neither?)
I can hardly imagine writing a book without some spiritual element, because the spiritual is (or ought to be) part of our lives. Most often I don't tackle a book with a goal of sending a Christian message, but when the opportunity to send one arises while I'm writing, I consider whether it's right for the story, and if it is, I gladly let it in.
Flannery O'Connor argued that Christian stories are simply stories written by Christians who are writing honestly. Note the word honestly. I know quite a few writers who are believers though you would never know it to read them, which leads me to suspect they are writing commercially, what they think will sell. Being honest and being commercial don't always work together. We may need to choose which attitude we feel is most important.
The readers I write for are Christians and others who are reasonably open-minded, who can sympathize with a variety of characters, and who don't believe they have all the answers. I guess I write for readers like me, curious people who like to wrestle with questions, the more mysterious the better.
You are the founder of an online university called Perelandra College.  Can you tell us a thing or two about it?
We founded the college in 2002 and it has been through a world of changes. It took about five years to get licensed to offer degrees and to get the degrees accredited. We remained accredited for five years, until financial issues required us to back off, for a while at least. You can find details at perelandra.edu.
What led you to establish the college, and why did you choose to name it after the C.S. Lewis novel?
My wife and I were teaching at a small Christian college when we noticed a lack of creative writing programs in Christian institutions. And we were concerned with the treacherous publishing outlook for Christians who had unique perspectives, who didn't want to write by formula. Mainstream publishers were (and are) wary of any story that contains an overt Christian message. Christian publishers of fiction are for the most part not so much about Christ as about being inoffensive and "inspirational". I've got no desire to offend, and I certainly hope to inspire, but in my mind to paint life as something it's not is usually a lie. So we had the idea of helping young writers meet the challenges they would face.
Pam came up with the name Perelandra after the C.S. Lewis novel, because the novel features floating islands where open-minded, inquisitive people live, and a mainland ruled by rigid characters who want to lure the islanders ashore and force them to become rigid like the mainlanders. We saw a parallel between that situation and people being able to live and work wherever they chose, and to write from a free and original perspective, rather than come to live on a campus, probably run by a particular denomination, where they would most likely have to shoulder a burden of debt. And debt is slavery.
Your first short story collection, Cars: California Stories, is scheduled for publication February 2015.  Can you explain the significance of the title?  And what can readers expect in terms of style and tone?
California is all about cars. And the collection is mostly set in California, a rather bizarre environment, and about Californians, who are often quite weird. The stories are wildly different. A few coming-of age stories. Several detective stories. One non-fiction account of Jim Thompson, a favorite writer of mine, during WW II in San Diego and dealing with the kinds of challenges many of us writers face.
Do you have any other writing projects currently in development?
Next week, when my Zoe goes back to school (eighth grade), I'm going to return to work on the tenth (and probably final) Hickey series novel. The story called "Mama's Boy" in Cars is part of it.
Who are your biggest literary inspirations, and what is the one book you would most recommend that everyone read?
Some of my favorites are Graham Greene, Feodor Dostoyevski, Patricia Highsmith, Ross MacDonald, John LeCarre, Ruth Rendell, Flannery O'Connor, Raymond Chandler, Thomas Hardy, T.S. Elliot, Christina Rossetti.
Everybody who cares to understand the world and its people should read "The Grand Inquisitor", a chapter from Dostoyevski's The Brothers Karamzov. Or better yet, they should read the whole novel.
And everybody, especially men, should read Pride and Prejudice, because it not only tells a fun story but also teaches us a lot about women.
Any advice for people trying to establish themselves as writers of "edgy" Christian fiction?
Learn all you can, read both great writers of the past and contemporary writers, observe everything with the minimum of judging you can manage, seek out good mentors and editors.
Most of all, discover who you are and write as that person with ruthless honesty. Don't try to please everybody. Instead try to find the particular readers who appreciate your work. And I suspect the best way to do that is by banding together, identifying and joining up with marketing efforts of a group like edgy Christian fiction. Help it grow. But don't try to write so you will fit into that genre. If it's what you like most, it will probably come naturally. And maybe define groups or brands within that sub-genre. Here's a link to a blog post of mine that tackles the issue of branding ourselves. hickeybooks.wordpress.com/2014/04/10/brand-yourself/
Don't avoid practical issues. Prepare for your writing career by studying the often distasteful stuff like marketing. And unless you are rich, always consider DIY, and don't pay dearly for anything without getting advice from experienced people. If you are going to pay always shop around.
Where can people go for more information about Perelandra College, or to sign up for your regular newsletter?
Perelandra College is at: www.perelandra.edu
To subscribe to The Scoop, my personal newsletter: http://eepurl.com/KolRf
To subscribe to The Breeze, a newsletter from Perelandra College and Hickey's Books, a Perelandra College enterprise: http://eepurl.com/brQ7xX